After relaxation in the cut-off marks vide NCISM and NCH circular dated 09.11.2023, after the mop-up first phase of admission counselling, some of the remaining seats will be called for mop-up second phase of admission counseling of Rajasthan State.
NEET – 2023 eligibility candidates in private AYUSH colleges/universities, in the AYUSH graduate courses being conducted in all the government and private colleges affiliated to Dr. Sarvepalli Radhakrishnan Rajasthan Ayurved University, Jodhpur and the constituent AYUSH colleges of all the private universities of Rajasthan in the session 2023-24.
Online registration and choice filling for admission are invited from 17.11.2023 to 19.11.2023.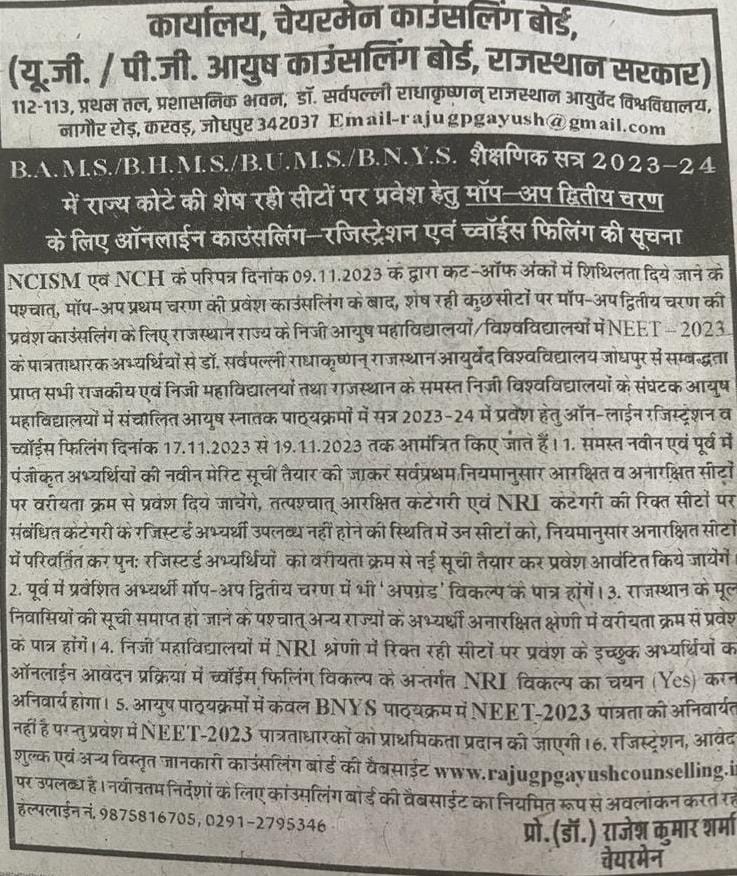 1. After preparing a new merit list of all the new and previously registered candidates, first of all admission will be given on reserved and unreserved seats as per the rules, in the order of priority, then on the vacant seats of reserved category and NRI category, in case registered candidates of the respective category are not available. Those seats will be converted into unreserved seats as per rules and admission will be allotted to the re-registered candidates by preparing a new list in order of preference.
2. Earlier admitted candidates will be eligible for 'Upgrade' option in mop-up second phase also.
3. After the list of natives of Rajasthan is completed, candidates from other states will be eligible for admission in the unreserved category in the order of preference.
4. It will be mandatory for the candidates wishing to take admission on the vacant seats in NRI category in private colleges to select the NRI option (Yes) under the choice filling option in the online application process.
5. In AYUSH courses, NEET 2023 eligibility is not mandatory in Kaval BNYS course, but NEET 2023 eligible holders will be given priority in admission. 16. Registration, application fee and other detailed information is available on the website of the Counseling Board www.rajugpgayushcounselling.in For latest instructions, keep visiting the website of the counseling board regularly and call the helpline no. 9875816705, 0291-2795346